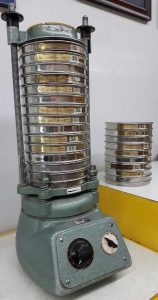 Samples, unless otherwise stated, will require drying to remove any surface moisture that is present in the sample. Samples are weighed as wet weight and then as a dry weight to determine moisture loss. Samples are generally dried for a 24 hour period unless otherwise specified. Please note that volatile elements such as Mercury, Sulphur and Arsenic analytical determinations will not be  accurate due to loss while oven drying. Should these tracer elements be required, please specify any samples that must be air dried which will take longer.
Once processed through washing / wet sieve and completely dry in wet sieve oven, samples are processed through dry sieve into standard grain size fractions or client specified grain size fractions. For most heavy liquid processing, we normally start with the -16 mesh sieve fraction that floats the light grains and sinks both the intermediate and heavy grains using tetrabromoethane.
As with all our processes, we ensure that any equipment is cleaned thoroughly. The used dry sieves are cleaned meticulously so that the sieve mesh is sample grain free. This removes any risk of cross contamination between processed samples. Although there are typically standard grain sizes that are historically preferred for optical picking, other client specific grain sizes are also available. If this is the case, please feel free to contact C. F. Mineral Research Ltd to discuss any project specific processing needs.