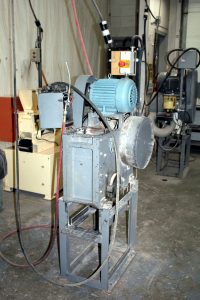 C.F. Mineral Research Ltd. has 2 TM Engineering jaw crushers. The jaw crushers' impact plates are adjustable with the widest gap set at 33 mms and the smallest gap set to < 2 mms. Depending on the sample type and the analytical requirements, samples can be crushed down in incremental stages for example which allows for diamond sorting under secure monitoring conditions.
With the adaptability built into the TM jaw crusher, alternative client projects that are not diamond related are possible. Projects related to grain size liberation, distribution and similar types of assays are available through C.F. Mineral Research. Do not hesitate in contacting the lab with your inquiries.
Please note that when crushing samples, the sample prep staff always pass quartz through the crushers after each sample as part of the cleaning and QC requirements.